OVERSTOCK PRODUCT DESTRUCTION Service Option

When a company chooses to simply throw away or recycle their proprietary equipment rather than choosing certified equipment destruction, they are running the very real risk that their equipment will end up in the wrong hands.

Recalled equipment destruction is undertaken when equipment has been recalled, for whatever reason. Destruction by a licensed and certified data destruction company ensures the safety of your equipment.

What does your company do with products that have been returned? If it's anything less than returned product destruction, you're leaving yourself open for potential reselling or repurposing of your unwanted products.

Just like your trade secrets, classified equipment must be protected at all costs: even when it is no longer wanted. Choose classified equipment destruction to ensure the safety of your proprietary equipment.
It's not easy predicting future buying trends and maintaining perfect stock levels. Excess stock levels can be the result of poor stock management, miscalculated consumer demand, or over delivery from a supplier. On-selling or discounting your excessive stock may seem like attractive options, but they also leave you open to potentially disastrous ethical or financial consequences. Overstock product destruction is the only guaranteed safe way to dispose of overstock inventory.
A report published by Retail Wire revealed that stock problems – which include overstocks and out-of-stocks, cost businesses globally $1.1 trillion in lost revenue per year. Such an insanely high figure is difficult to comprehend. To break it down into a slightly more manageable figure, consider that in North America alone, overstocks cost businesses $123.4 billion annually, equating to 3.2 percent of revenue lost. The report, based on data compiled by IHL Group and published in 2015, noted that "bad processes" were primarily to blame for excessive stock levels. This broad term includes technological problems, problems with equipment such as inadequate refrigeration of perishable items, and processes that have not evolved alongside the growth of the company.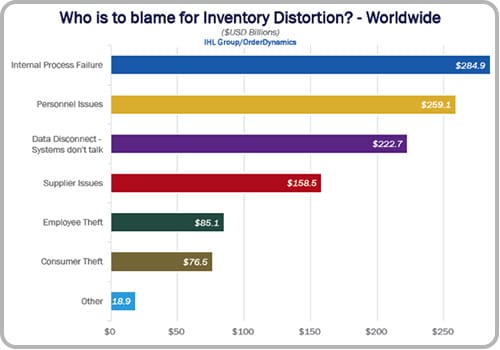 Source: Retail Wire
Other causes of overstock products were cited as being "people problems" – another broad term that includes human error, inadequate training, and even laziness – along with data disconnect, and supplier issues.
Whatever the cause, it is shocking to realize just how much potential profit is lost because of overstock products. And to make matters worse, poor decisions related to the handling of excess stock can make the situation a lot worse.
What to Do with Excessive Stock?
Overstock products, also known as excess inventory, excessive stock, or even B-stock, can be a problem for a business of any size and in any industry.
Excessive stock naturally represents a financial loss for the company, especially regarding the wasted resources allocated to the purchase of the stock. Once overstock products have been identified, further losses will inevitably be accrued by the company by way of storage and upkeep, particularly regarding bulky items or products that need to be stored in a certain way, like perishables that must be refrigerated.
Given the financial losses that have already been accrued by the time excessive stock has been identified, it makes sense for companies to look at ways that they can mitigate their losses. Liquidating their overstock products to companies who intend to resell to the secondary market – whether wholesale or retail – is a common way for companies to dispose of excess inventory, as is selling the B-stock to existing customers at extreme discounts.
As you will see, these methods of excess inventory disposal, while appearing advantageous in the short term as they will assist in recouping some of the initial financial outlay, can eventually cause more financial concerns for the company.
The Hidden Costs of Overstock Products
Disposing of overstock inventory by way of liquidating the products to the secondary market or selling to existing customers at extreme discounts can cause significant problems for a company.
The saying goes that people value that which they give value for, often cited as the reason why consumers have little ongoing demand for inexpensive items, yet highly prize items for which they paid a larger proportion of their disposable income.
When you consider all the ways that you have marketed your products and your brand to your customers, you will discover that one of your primary aims was inevitably for customers to perceive a high value in your brand, your reputation, and inevitably, your products.
When your products are later sold at extreme discounts, the message and brand reputation you have worked so hard for will be irreparably cheapened. Customers will wonder why they should be expected to pay an inflated rate for one of your products when another of your products is so heavily discounted?
Similarly, for liquidating your excessive stock to a third party: when your products appear in seconds stores, warehouse sales, or factory direct outlets at hugely reduced prices, the trust in and perceived value of your company and your brand will be affected.
While liquidating or drastically reducing your overstock products may help your cashflow in the short term, the long-term disadvantages could be devastating.
Overstock Product Destruction: The Real Solution to Problems with Excessive Stock
The only failsafe way to dispose of excess inventory is to make use of overstock product destruction by a licensed and NAID certified equipment destruction company. Overstock product destruction ensures the complete destruction of your overstock inventory, effectively safeguarding your company's hard-won reputation and community standing.
To find out how Data Destruction Corporation can take your excess inventory off your hands with overstock product destruction, contact us today.
DATA DESTRUCTION LOCATIONS
LEARN MORE ABOUT OUR SERVICES
SEARCH LOCATION WITH ZIP CODE