SECURE PAPER SHREDDING Service Option
On and Off-Site Paper Shredding Service
Whether you run a small business or lead a department within a large corporation, you deal with confidential information that needs paper shredding to keep criminals at bay.
Customer Social Security numbers and passwords required to access financial accounts appeal to thieves that want to exploit poorly operated data security systems. And since the average office worker goes through more than 10,000 sheets of paper every year, small businesses and large corporations must rely on an experienced paper shredding company to secure highly sensitive data.
The Cost of Inadequate Records Management
Think about this scenario: A customer leaves your business after paying for a product or service by using a credit card. Barely a few seconds pass, and you toss the copy of the credit card transaction into a trash bin.
Moments later, one of your employees dumps the trash bin into the large receptacle that your business shares with other businesses located in the strip mall. The company that dumps the large trash receptacle does not service the strip mall for a few days. An identity thief knows the trash removal company's schedule and immediately pounces on the opportunity to steal the credit card information provided by your customer.
Inadequate records management by your company has resulted in an identity theft, which could have been easily prevented with a data shredding service.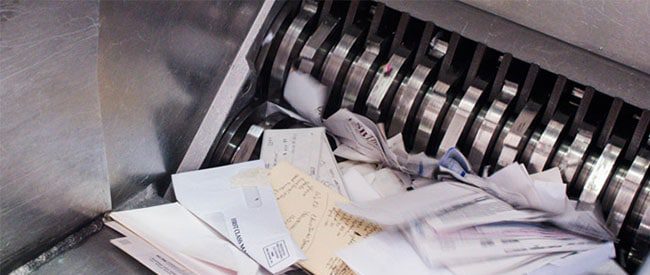 Data Destruction Protects Your Reputation
Most businesses reserve a spot for Goodwill on balance sheets. Although the term Goodwill does not have a concrete meaning, it does heavily influence the asset side of your business.
If a criminal steals confidential information from your business because your business does not shred paperwork, you can expect any goodwill of your business to disappear quickly.
We provide paper shredding services that protect your professional reputation. From high-powered law firms to independent grocery stores, Data Destruction Corporation ensures you never take a credibility hit because of poor records management.
Here are some other reasons to hire us to handle your paper shredding needs:
Reduce the costs of storing information
Save time by eliminating the need for filing and maintaining paperwork
Ensure compliance with state, federal, and industry record-keeping regulations
The Paper Shredding Specialists for All Organizations
We have grown into a paper shredding business that serves all types of organizations. We handle small paper shredding jobs, such as destroying sensitive customer account information for a personal financial manager. Data Destruction Corporation also has the capability to perform large-scale document destruction projects, such as the jobs requested by multinational corporations and federal government departments.
We specialize in providing secure paper shredding services for the following industries:
Retail
Banking
Government
Department of Defense
Education
Insurance
Telecommunications
Law Firms
Accounting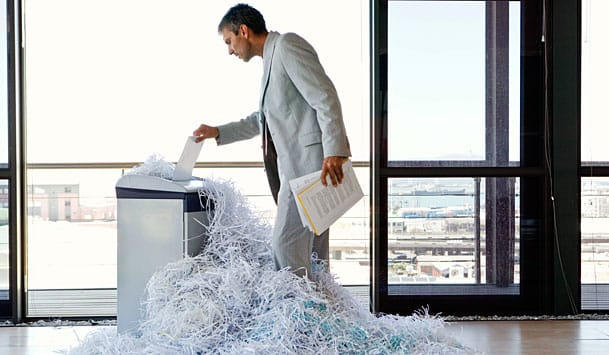 On-site and Off-site Document Destruction Services
Data destruction offers one-time and regularly scheduled paper shredding services that we perform either on-site or off-site. Every one of our document destruction services follows a strict Chain-of-Custody process that ensures your confidential information never reaches the hands of thieves.
For on-site paper shredding, we perform our services at times when your office is closed or during off-peak business hours.
Off-site document shredding allows your business to operate uninterrupted.
Before you commit to a paper shredding service, our team of experienced data security professionals explains each of the options we offer for our customers.
Do not put off securing your confidential information. Contact us today for a FREE quote to protect your hard-earned reputation.
Professional Paper Shredding Services
According to Federal laws, every company collecting Personal Identifiable Information (PII) and maintaining it for business operations is responsible for safely disposing of it once it is no longer needed. To remain compliant with the regulations laid down by The National Association for Information Destruction, or NAID, you need a secure document shredding service that uses efficient methods for destroying sensitive documents. At Data Destruction, we offer onsite and offsite shredding services. Later, we recycle the remains after reducing them to an indecipherable pulp. Depending on the sensitive nature of the documents and your instructions, we can also pulverize, incinerate, or disintegrate them so that they're reduced to fragments less than one square centimeter. Learn more about the approved methods of destruction.
DATA DESTRUCTION LOCATIONS
LEARN MORE ABOUT OUR SERVICES
SEARCH LOCATION WITH ZIP CODE
Professional Shredding Companies: We Don't Fool Around
When you think of shredding companies, it's easy for a chaotic scene to pop into your mind. Perhaps you're imagining paper flying everywhere and crazed people running out-of-control shredding machines, like the crazy scene from the Jim Carrey movie Fun with Dick and Jane.
Luckily, professional shredding companies – like any other expert at the top of their industry – know exactly what they're doing. When you choose on site shredding from a mobile shredding service, you'll have peace of mind in knowing that trained professionals will attend at your workplace, at a time and date that suits your schedule and your business's operating hours.
There will be no chaos or unhinged people shoving bundles of paper into overheating shredders – just professionals disposing of your confidential documents and sensitive paperwork with the utmost care.
With more than 15 million consumers being the victim of identity theft in 2016 in the United States alone, and identity theft-related losses totaling more than $16 billion for the year, it has never been more important to take care of your client's confidential information in the ethical way. Leave nothing to chance, and enlist the help of professional document shredding companies to dispose of your classified paperwork in the right way.