DATA DESTRUCTION SAN JOSE Service Option

E-waste and paper waste volumes are skyrocketing as tech transforms the global landscape, forcing the secure paper shredding industry to come of age.

Certified equipment destruction is a fully-fledged industry dealing with the disposal of equipment in an ecologically responsible, secure manner.

Secure hard drive data wiping is the act of obliterating data stored on electronic media permanently, making it impossible to recover or access.
Secure hard drive shredding and destruction is the complete and unequivocal assurance that your hard drives will not be recycled or reused.
In the sprawling, magnificently diverse Silicon Valley area, the metropolitan area of San Jose deserves a special mention. While close to global tech giants like Google, Facebook, and Apple, San Jose offers peaceful suburbs, sprawling tech campuses, and stunning modern architecture. In San Jose, technological innovation is the order of the day, fuelling a growing requirement for specialized supporting data services like the data destruction San Jose needs.
THE EFFECT OF SAN JOSE'S TECH BOOM ON THE LOCAL ECONOMY
San Jose's dazzling reputation for novelty and advancement extends to the lifestyle of its denizens. Judging by the quality of life, the advantages of living in the area, and liveliness of the job market, San Jose has been voted the third best place to live among 100 notable US metro areas. It is not just one of the most desirable areas to live in; it is also one of the most expensive.
FROM TECH BOOM TO A CLEAN TECH ECONOMY
Silicon Valley grew from the persistent desire to know more and do better; a limitless hunger for knowledge. It led the world into the information age, and, as the home base for over 1,500 of global tech giants, it continues to dictate global technological progress.
Clean technology is the next innovation frontier and must provide urgent answers to the world's unprecedented energy needs, growing population and the threat of an impending climate crisis. San Jose has now become the new capital of clean tech companies who take advantage of readily available skilled workers, abundant venture funding and cutting-edge technology to perfect new break-through technology solutions.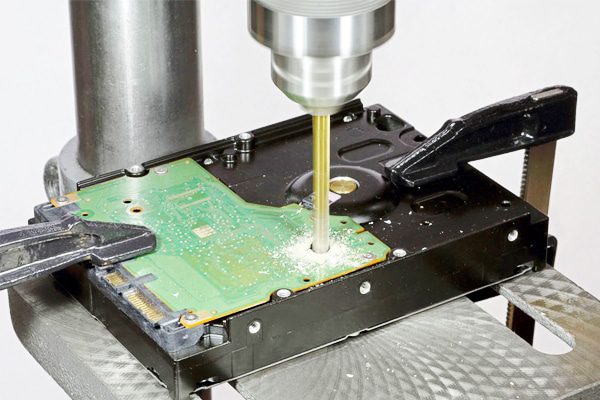 The Data Destruction San Jose Businesses Need
San José is a leader in this heady rush for innovation and is home to thousands of start-ups which buy, trade and sell IT and computer equipment on a massive scale, feeding a surge in the demand for data security services.
In a fiercely competitive business environment, a sliver of overlooked data on a hard drive can have disastrous consequences for a business. Data security is critical – who knows where your old hard drive will end up? Most of the free or commercially available data shredding software is not effective and certainly cannot withstand a concerted effort by a data recovery specialist. Securely deleting all data is a time-consuming and specialized skill.
Data Destruction Corporation is a trusted member of this fast-growing San Jose tech community, with substantial investment in the specialized technology, skills, and knowledge needed for secure data destruction in the tech industry.
ON-SITE OR OFF-SITE SERVICES? IT'S YOUR CALL
IT equipment is the backbone of San Jose's drive for knowledge and progress. IT assets are continuously recycled, sold off and replaced. Do not risk compromise from traces of leftover data or identifying information. Call the experts when you need an absolute guarantee that no hint of information will remain on your liquidated IT assets.
We offer on-site hard drive shredding in San Jose or the choice of protected and risk-free transport to our sheltered facility where we offer certified hard drive shredding and IT asset destruction.
The data destruction San Jose businesses need is available to your business, too. Contact us today to find out more.
DATA DESTRUCTION LOCATIONS
LEARN MORE ABOUT OUR SERVICES
SEARCH LOCATION WITH ZIP CODE

Compliance to HIPAA data destruction standards is essential for hospitals and anyone handling medical records. Data wiping, hard drive shredding, and secure erasure procedures allow you to be fully HIPPA-compliant with ease. We can advise you in order to keep you fully HIPAA-compliant, minimizing your costs for hard drive wiping, hard drive crushing, and onsite secure hard drive shredding services.

DOD-COMPLIANT DATA DESTRUCTION
Department of Defense data destruction protocols are essential to the safety and security of your data. Don't leave data destruction to chance. Data Destruction Corporation's world-class data destruction services includes solutions for seven-pass DOD-compliant hard drive wiping, in addition to offsite hard drive crushing services, as well as on-site hard drive shredding services, utilizing our world-class fleet of onsite hard drive shredding trucks. Trust the company that is trusted with the world's most sensitive data destruction requirements.

MULTI-PASS DATA WIPING
In order to completely destroy all sensitive data, Data Destruction Corporation offers a multi-pass data wipe destruction solution that ranges from a three-pass wipe to a seven-pass wipe, and even an 11-pass hard drive wiping solution. Using our proprietary data destruction software called Green Pulse Data Annihilator, Data Destruction Corporation's permanent destruction of all your data, onsite or off-site.1